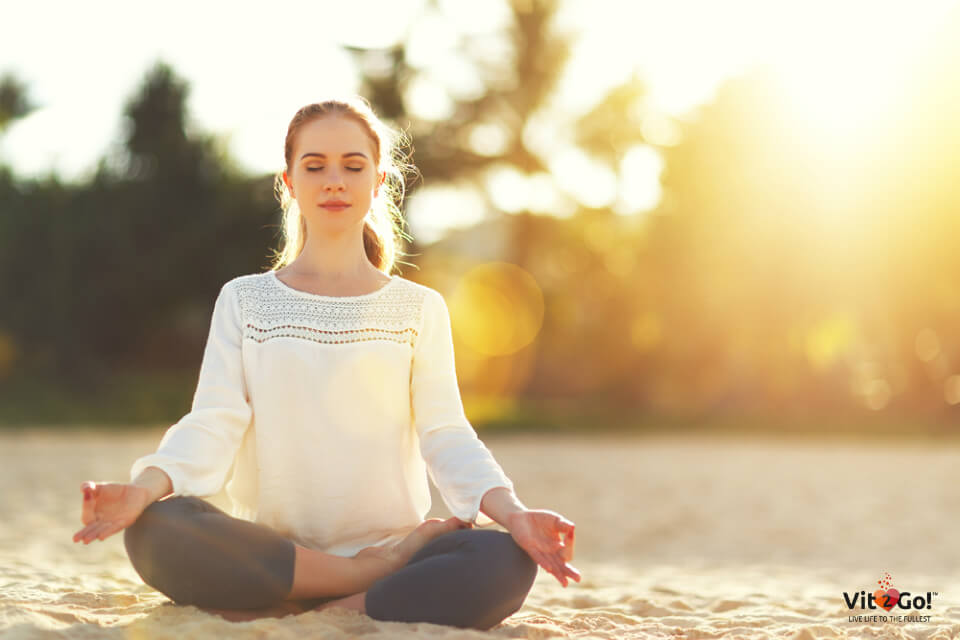 Keep Calm – 10 helpful tips to reduce stress
 Get enough sleep
If you are forgetting to attend a meeting, skipping meals or unreasonably feeling sad, you need to take a second and review your sleeping habits. It's not good for you to stay up late working, because you need your sleep in order to stay focused and deal with daily challenges. If you have problems with stress related insomnia, alleviating the stress should alleviate the insomnia.
 Eat healthy
Healthy eating habits are an unavoidable weapon of any fight against stress. It's important to consume only moderate amounts of sugar, limit caffeine intake and don't skip your meals and snacks. Pay more attention to what you eat, replace junk food with immune booster! Some foods that can reduce stress are asparagus, avocados, berries, cashews and garlic.
We already mention some fruits and vegetables that can naturally boost your energy levels, and you can get the same benefit from vitamin supplements, such as Immune System Booster or Natural Energy Booster by Vit2Go! These products will help you fight against stress, and the success is guaranteed, because they contain very powerful ingredients: Vitamin C, Vitamin D, K, and Zinc. 8 B-Vitamins and 1 Amino Acid. People who use vitamin supplements regularly, claim to be very satisfied with their overall well-being.
 Meditate
You can take a yoga class, or simply find some time to do breathing exercises. Taking deep breaths and slowly breathing out can help you get calmer if you are under pressure. No matter how chaotic your working day is, you should be able to find some time to relax and be present in the moment through mindfulness meditation. Mindfulness meditation is proven to lower the stress hormone, and that's what we are aiming for.
 Exercise
If you are not a sport type, you can take a walk or engage in any other form of movement that you like. Once you get motivated, exercise can make a big difference, by releasing feel-good brain chemicals and increasing body temperature, which may have calming effects. They can also help you relieve the pain you feel in your neck and back, and after a long day at work, that feeling of relief is all you can wish for.
 Talk to yourself
The causes of stress may be various, and it's important to have a deep conversation with yourself to figure out what seems to be the problem. For example, if you feel under pressure because you can't complete your daily goals, work on your time management and your organization skills. Get in front of a mirror and give yourself some encouragement by telling yourself how amazing and valuable you really are. Stop blaming yourself for every little thing.
 Talk to someone
Keeping your problems to yourself is one of the things that can lead to more stress. A problem shared really is a problem halved! Sharing your fears and doubts with someone who cares about you, or has a similar issue, is the best step to start reducing your stress level. You can get advice from your friend, but someone being listened to will be enough to make you feel good.
 Improve your communication
Poor communication with family, friends, colleagues etc. can cause a lot of stress. If you communicate assertively you will be more satisfied with yourself and your relations, which will automatically reduce your stress level. Clearly and calmly express what you want without being too passive nor too aggressive and offer a future alternative that meets needs and rights of both sides.
 Journaling
You don't have to be good at writing to start journaling, it's a space to express however you feel at the moment. When you put every single thought that causes chaos inside your head on a paper, your thinking will become clearer and it will give you a chance to make plans to do something about it. Journaling is a great way to get to know yourself better.
 Get inspired
Nowadays, more and more people are ready to share inspirational videos on how they deal with stress, give motivational speeches, write self-help books etc. Everything that is available doesn't necessarily have to be helpful to you, but that doesn't mean you can't get inspiration from that.
In order to deal with stress successfuly, you need to pay attention to you mind and your body as well. You can keep your body healthy through exercise, nutrition and vitamin supplements, and your mental health will improve by positive thinking and meditation. If you follow this 10 tips, in time you will feel much more calm and your energy levels will increase.