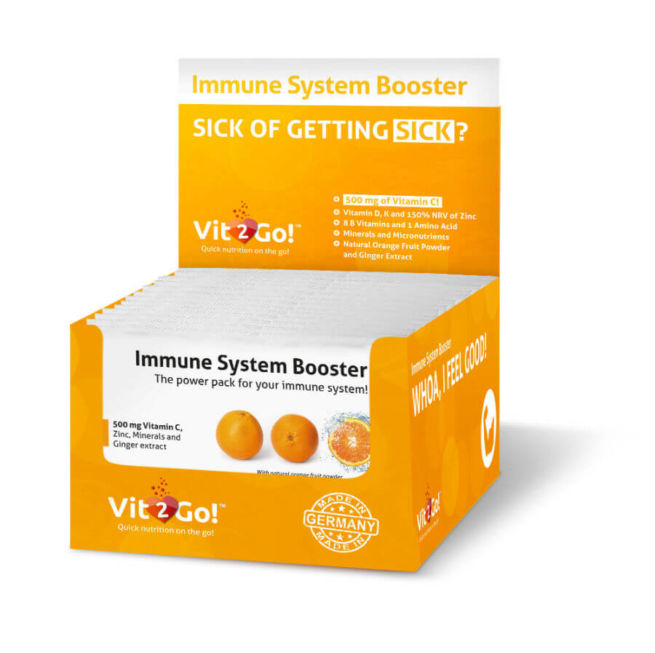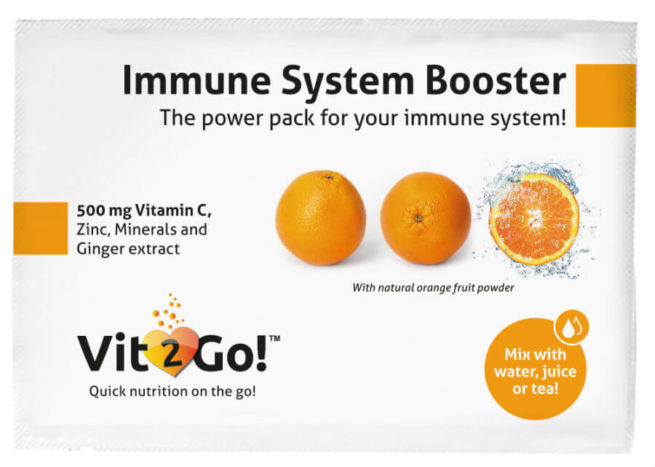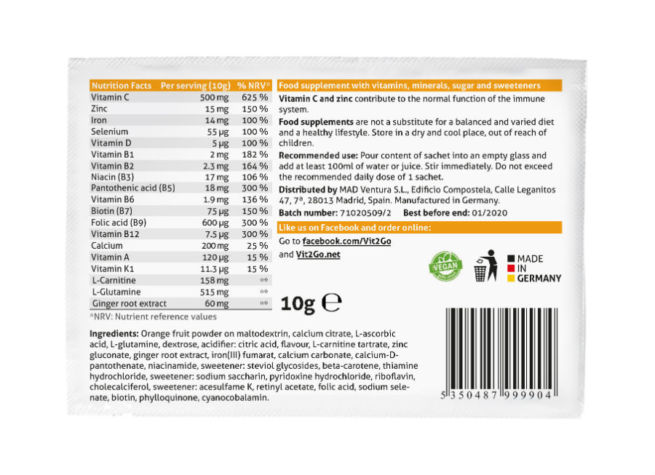 Immune System Booster 30-PACK
€46.10
In stock
Description
https://www.vit2go.net/shop/immune-system-booster-30pack/
Immune System Booster: Sick of getting sick?
500 mg of Vitamin C
Vitamin D, K and 150% RDA of Zinc
8 B-Vitamins and 1 Amino Acid
Natural Ginger Extract and Orange Fruit Powder
100% vegan
Your body is working hard for you right now as you read this. Don't you think it's time to give it a little turbo boost? And the good news is that Vit2Go! Immune System Booster is not only good for you, but it is easy to use by simply mixing it with any drink. Are you ready to experience the heavenly taste of natural ginger and orange extract while fighting viruses and bacteria? Basically, if you are looking for some insurance for your rocker-God status, look no further; Vit2Go! Immune System Booster is your new sidekick.
Buy 1 or more 30-PACKS of Vit2Go! Immune System Booster and get 20% Online Shop Discount!
Food supplement information:
EU authorised health and nutrition claim:
Vitamin C and Zinc contribute to the normal function of the Immune System.
Recommended use:
Mix contents with at least 100 ml of water or juice and stir. Do not exceed recommended daily dose of 1 packet per day. Store in a cool, dry place, out of the reach of children.
Food supplements should not be used as substitute for a varied diet. Seek professional advice before using if you are pregnant, breastfeeding, under medication, or suffer from food allergies.
Nutrition Facts
Per serving (10g)
% NRV*
Vitamin C
500 mg
625 %
Zinc
15 mg
150%
(Iron citrate)
14 mg
100%
Selenium
55 µg
100%
Vitamin D3
5 µg
100%
Vitamin B1
2 mg
178%
Vitamin B2
2.3 mg
164%
Niacin (B3)
17 mg
106%
Pantothenic acid (B5)
18 mg
300%
Vitamin B6
1.9 mg
136%
Biotin (B7)
75 µg
150%
Folic acid (B9)
600 µg
300%
Vitamin B12
7.5 µg
300%
Calcium
200 mg
25%
 Vitamin A
120 µg
15%
Vitamin K1
11.3 µg
15%
L-Carnitine
158 mg
—
L-Glutamine
515 mg
—
Ginger root extract
60 mg
—
* NRV – Nutrient reference value
Other ingredients: Orange fruit powder on maltodextrin, calcium citrate, L-ascorbic acid, L-glutamine, dextrose, acidifier: citric acid, flavour, L-carnitine tartrate, zinc gluconate, ginger root extract, iron(III) fumarate, calcium carbonate, calcium-D-pantothenate, niacinamide, sweetener: steviol glycosides, beta-carotene, thiamine hydrochloride, sweetener: sodium saccharin, pyridoxine hydrochloride, riboflavin, cholecalciferol, sweetener: acesulfame K, retinyl acetate, folic acid, sodium selenate, biotin, phylloquinone, cyanocobalamin.
Energy 12,6 kcal (52,9kJ), Protein 0,52 g, Carbohydrates 1,96 g, Fat <0,01 g
Manufactured by Vital Products GmbH, Prinz Ludwig Straße 13-14, 95652 Waldsassen, Germany.
Distributed by MAD Ventura S.L., Edificio Compostela, Calle Leganitos 47 – 7, 28013 Madrid, Spain
Made in Germany.
EAN: 5350487999904
Sachet back side: