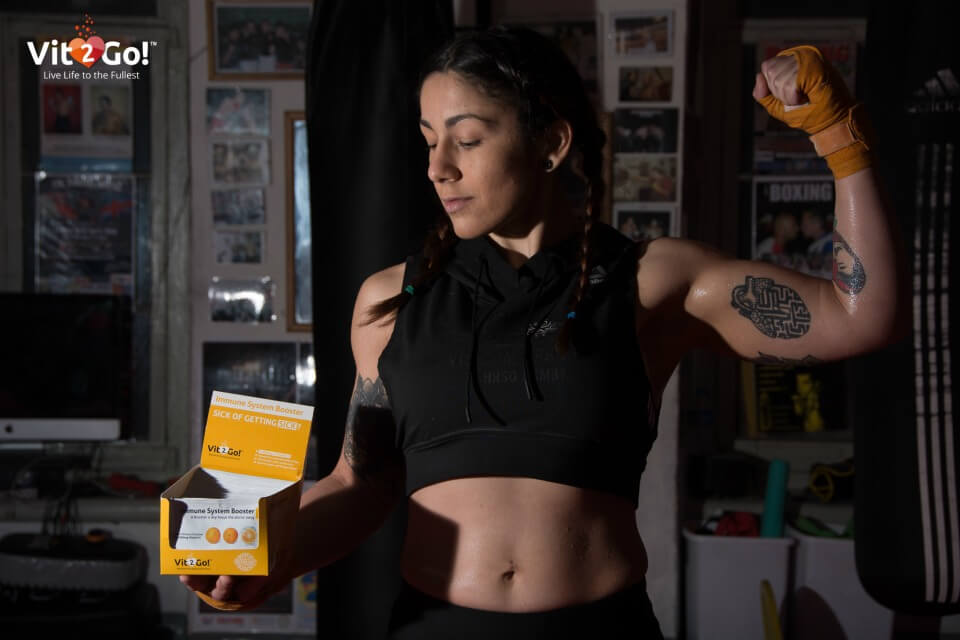 Introducing Kaylee Mifsud – Amateur boxer at DBC Team Vikings
Wondering what it takes to develop that perfect warrior punch? Extreme effort and discipline. Training pushes you to your physical and mental limits and it is extremely taxing on the body, depleting energy stores and vital nutrients. This is why boxers and athletes in general pay a lot of attention to their diet and vitamin and mineral supplementation.
One of the supplements Kaylee Mifsud, amateur boxer at DBC Team Vikings and Vit2Go! ambassador in Malta, takes following her daily training sessions is Vit2Go! Immune System Booster which is packed with a nutritious concoction of vitamins such as vitamin C, D,K, Zinc and 8 B vitamins amongst other minerals.
To improve your health, antioxidants such as vitamin C and zinc can get rid of free radicals and sustain you with energy throughout your training. One of the boxing health concerns is that boxers feel tired after training, but with the addition of antioxidants energy is sustained for longer.
Vitamin B is vital for immunity, iron absorption and weight. A deficiency of this vitamin can cause weight loss, poor metabolism and poor immunity. Vitamin D is important for the bone strength whilst vitamin K plays a key role in blood clotting following injury.
Between these heavy hitters and the 8 B-Vitamins and 1 Amino Acid, there is nothing that can stand in the way between you and world domination
Find out more about Kaylee Mifsud in the following questionnaire:
Your full name: Kaylee Mifsud
What's your profession? Amateur Boxer
Name of your boxing club: DBC Team Vikings
Birth Date: 05/01/94
Place of Birth: Malta
Where do you currently live: Birgu, Malta
Any other hobbies and interests: Photography, cooking and traveling
What's your favourite Vit2Go! product? Immune system booster
Share your favourite inspirational quote with us: '' I fight to make the people who love me proud. To make the people who hate me seethe. I fight for anyone who has ever been lost, who has ever been left or who is battling their own demon.'' Ronda Rousey
What inspires you? Basically, the daily life and the hard times we go through… you need to learn to fight and win every obstacle that may occur
Which athletes/people have been your biggest source of inspiration? My coach, My family, my gym mates, my friends… their everyday struggle inspires me to fight for everything I deserve !
What's your current favourite song that puts you in a good mood? My workout playlist depends on my mood normally, but one song that always puts in me a good mood would be Just Like Fire by p!nk
What's the craziest thing you have done in life? The craziest thing I have done till now is probably pursuing a career as an amateur boxer It's not an easy choice to follow such a path as this sport requires a lot of commitment and sacrifice.
What's your favourite fruit flavour? Orange !
What's your favourite cocktail? Pina Colada
Your dream holiday destination and why? Somewhere outside Europe, Thailand or Maldives… I simple love adventure and tasting new food from all around the world
If there was one thing you could change on the Vit2Go! product, what would it be? Nothing! They taste great and are very effective.
Follow Kaylee on her journey to success on Facebook and Instagram and be inspired!