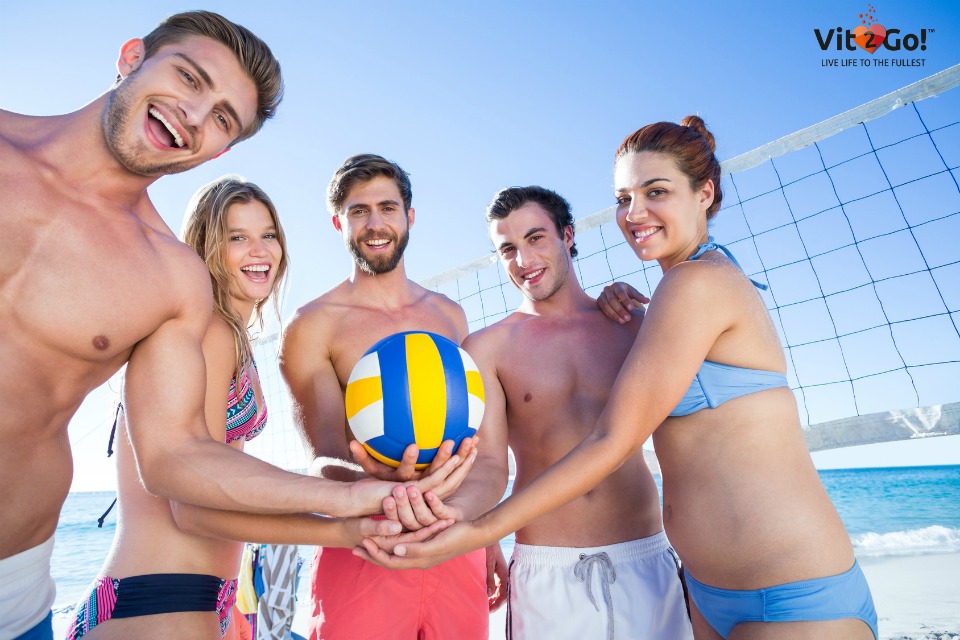 Top outdoor sports to practice in the summer
Swimming
If your summer vacation consists of sunbathing and sipping summer cocktails at the beach, it's time to mix it up with this amazing outdoor sport. The magic of swimming is that, when you swim, you are using most of your muscles, which will help you be in great shape. It doesn't matter if you're at a lake, in the sea or at a pool, you should swim whenever you have the opportunity to do so. You'll refresh yourself, have fun and shape your body at the same time.
Volleyball
Beach volleyball may be one of the most exciting outdoor sports in summer. If you are a team player this is a perfect way for you to express your social skills since you can meet new people who would like to join you for a volleyball match. It's also a great workout since it is excellent for your toning your body, especially your arms, abs, and legs.
Tennis
If you want to burn a lot of calories and have fun with your friend, tennis is a great option. Challenge yourself by playing with someone who is really good at tennis so you can continue to improve your tennis skills. However, don't forget to stay hydrated and protect yourself from the sun while you're on a tennis court. The time will fly by and you may not notice the number of hours you spent playing this entertaining sport.
Golf
Golf may not seem like an adventurous sport because it seems like it doesn't involve a lot of physical work, but there is a great mental challenge behind it makes it exciting for many people. If you haven't tried golfing yet, we suggest that this summer is definitely the time you should start playing golf. Apart from the many health benefits, golf is also helpful when it comes to reducing stress. You should also know that the risk of injury is low, so you can play golf even if you're accident prone.
Biking
Another outdoor summer sport for those who like individual sports, is biking. Your bike can be your best friend this summer and make you feel more energized than ever. If you want to feel some adrenaline rush you can always try mountain biking. Overall, biking is excellent for your muscle power, mental health and immune system. The list of its benefits is endless, and that's why biking should be on your "Outdoor fitness" list.
How to get in better shape
If you are one of those people who do not like sports, this summer is the perfect time to turn things around. Your friends and the positive mood given by the sunshine can be your perfect motivation. Plus, you want to look good, right? Think about all the reasons that are holding you back. One of them may be your belief that you're out of shape, and it's time to break that pattern!
If you believe that the lack of energy is holding you back, you can always use a healthy alternative to energy drinks like Natural Energy Booster from Vit2Go!. It's easy to use and it can boost your energy and restore all the important minerals your body may have lost while practicing sports.
The health benefits you have from engaging in sports are numerous and that should also build up your motivation. Choose the ideal sport and start practicing it every day in order to stay in shape. Persistence is very important if you want to see results,  if you give up you would just have to start all over again.
We do recommend that before engaging in any physical activity be sure to warm up. You definitely want to avoid any kind of muscle inflammation and in consequence an injury. Consult a doctor if you have any medical conditions that may worry you and get advice on which exercises may be the best for you.
Always have a bottle of water, ice tea or other refreshing beverage, because it is essential to stay hydrated. You can add Immune System Booster from Vit2Go! in water if you want to boost your immune system. Also, if you are out in the open and you want to avoid getting sick during your vacation, boosting your immune system while doing outdoor sports is important.
Swimming, volleyball, tennis, golf or biking? These sports are ideal in summer and they can definitely make your outdoor experience fun and your body thankful. Be persistent, work on your motivation, and don't forget to boost your energy and your immune systems.