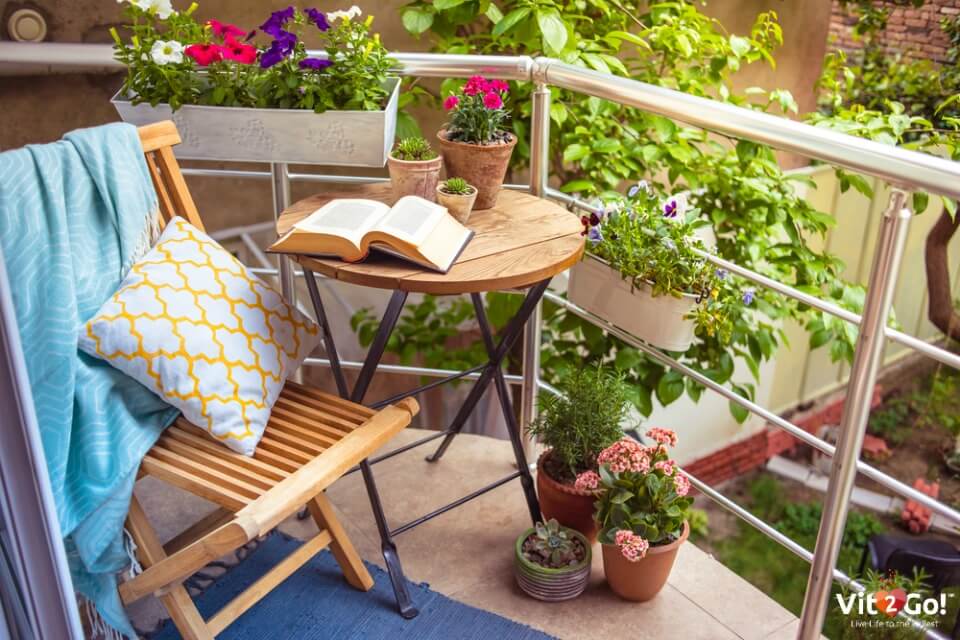 DIY – Terrace and Balcony Decoration
It doesn't matter if you want to invite your friends over and hang out on the terrace, or if you just want to chill out and read a book, or maybe listen to some music, your goal is the same – to be comfortable and enjoy the beauty of your terrace. Here are 10 tips on how to decorate your balcony with garden decorations so you can truly enjoy it.
It's always good to start from the bottom. Find a colorful cover for your floor and make sure you always keep it clean and neat. You can also use artificial grass turf which will make your balcony look flawless.
Add a table and a set of chairs, depending on the size of your balcony. Choose the colors in accordance with the cover, or simply choose a wooden design, you can never go wrong with that. Also, if you want your balcony to look fun, don't be afraid to experiment with colors.
If you have a small balcony, you can buy a folding table. This way, you can take it out any time you need it, and store it anywhere you want in your house.
If you only have space to fit a few chairs, you can add some cozy seat cushions for your guests who like to sit on the floor or to lie down and sunbathe. Your balcony is a place where you can chill-out and that's why it should be as comfortable as it can be. Use your chill-out area to enjoy delicious summer salads, which can boost your immune system and make you feel ready for summer.
To make your time on the balcony look like you're on a beach, prepare summer cocktails and drink it with flamingo straw. Plus, using any summer garden decor that you can think of will make it feel more like a vacation.
If you like plants, that's a big plus, your terrace will look and smell fantastic. However, don't forget to water them, because no one likes to see dried flowers. Flower decorations will look amazing if you combine different ones and arrange it tastefully. The plants we recommend for your balcony garden are marigold, begonias, pansy, and
For those who really don't have time to dedicate to plants, you can make some artificial ones. One of our DIY ideas is to take some rocks and paint them in green with some spines on it, so it looks like cacti.
When it's dark outside and you want to light your balcony to make it look romantic, you can use lanterns. There are many ways you can make a lantern by yourself, for example, you can put a candle inside a jar and decorate it with sparkles, ropes, etc.
If you want your balcony to be authentic, you should display some of your masterpieces. Develop some photos of different cities, animals, absolutely anything you like and hang it on your walls. If you are talented you can also paint a picture or make a collage.
Make space for a barbeque grill, and enjoy some incredible food and drinks with your friends or family at a garden party. Use plastic glasses and plates if you're having a party, but remember to choose ones with interesting designs, funny photos or quotes. Choose your drinks wisely, and keep in mind that you need natural energy boosters are much better than energy drinks.
Throw a perfect garden party
Summertime is ideal for spending time outdoors, and if you want to throw a party at your house, your balcony garden is the perfect location. Invite your friends over for a bbq garden party. Make a list of your guests, prepare their favorite summer cocktails and set the grill on your balcony. Make sure you respect your neighborhood, but still, don't hesitate to have fun. Too much fun can make you regret the morning after but don't worry, you can use a natural supplement to avoid a hangover. Hangover Aid from Vit2Go! can help you with that, so you should always keep it close when you're throwing a garden party. The music should not be too loud, just enough so you can catch the rhythm under the stars and enjoy your perfectly decorated balcony garden.
Balcony gardens may not be easy to decorate and maintain, but it pays off because you get to enjoy your chill-out area and throw awesome bbq parties. Plan every detail, from the look of your balcony to the things you can do outside. Spending time outside can boost your immune system, and spend time with your friends on your magnificent balcony.