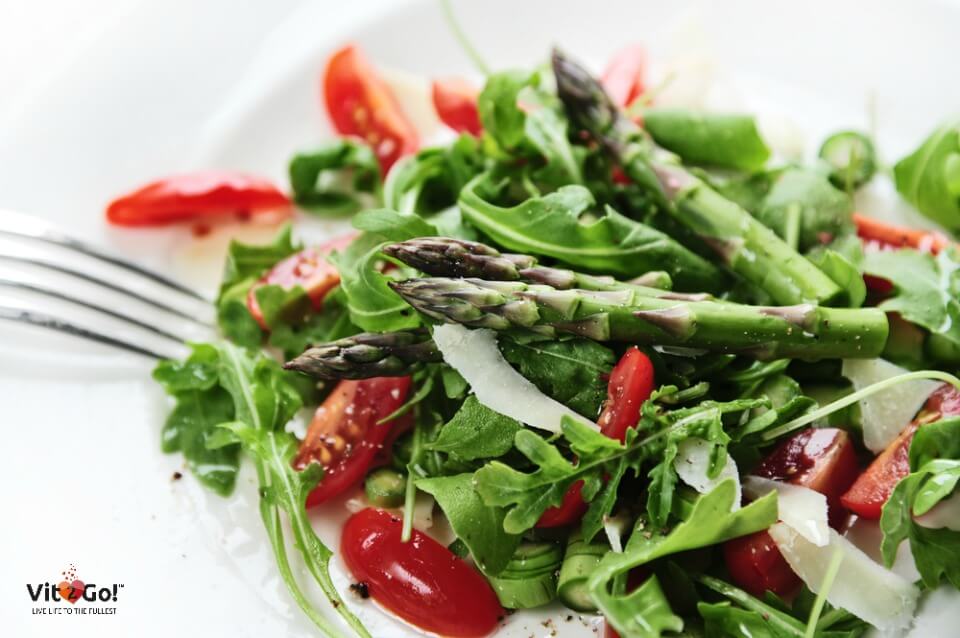 6 delicious & vitamin rich summer salad recipes
 Summer Chicken Chopped Salad
This delicious salad is easy to prepare and will enrich your diet with proteins. It's an ideal combination of barbecued chicken, toasted nuts, briny feta, refreshing watermelon and strawberries. Watermelon contains a wealth of nutrients, such as vitamins, minerals, and antioxidants. The dressing is made out of apple cider vinegar, which contains small doses of acetic acid which is fantastic for fat burning.
 Asparagus Salad
Asparagus is often used as a medicine for urinary tract infections, joint pains and numerous other ailments, because it's a good source of vitamin B6, calcium, magnesium, dietary fiber, protein and other nutrients. To make our salad, you have to mix asparagus with rice, mozzarella cheese, basil and cherry tomatoes. Boil the asparagus on the stove with olive oil, salt, and pepper, and tie all the ingredients together with a light balsamic vinaigrette for an amazing taste and great nutritional value.
 Crunchy Cashew Thai Quinoa Salad
If you are vegan, or you just want to skip meat for this meal, this summer salad recipe will be your love at first bite. The salad is loaded with protein since it contains peanut butter, cashews, legumes, plant-based oil and quinoa. Mix them all together and you will get nine essential amino acids  that would help you build your muscles and make you look better than ever. Legumes are also a great source of the B vitamins, which makes this salad an even more nutritious meal.
 Broccoli & Avocado Salad
Broccoli is a great source of vitamin C, and if you're searching for a delicious recipe that includes broccoli and avocado, this salad will be perfect for you. Avocado is known for being a source of 20 different vitamins and minerals. In order to make the dressing for this salad, you will need almond whipped with savory garlic, tamari and lime. Preparing this summer salad is pretty simple and it is definitely an immune system booster.
 Summer Pasta Salad with Garlic and Chilli
Another plant-based meal ideal for hot summer days is this yummy pasta salad. The ingredients you will need are asparagus, peas, zucchini, chili powder, and garlic. Garlic has long been used in homemade cures for heart conditions, blood pressure issues, colds and infections, so you'll love this summer mix for its immunity-boosting properties. Did you know that that Vitamin K present in peas, helps you in the prevention of arthritis? Now you know, and you will enjoy this healthy summer salad even more.
 Midwestern Steak Salad
For those who prefer meat-based salads, this is the perfect choice. Add some fantastic flavor to your steak by using olive oil, lemon, paprika and cumin. Adding some extra virgin oil is will be great, as it is a great source of  vitamins A and K. This amazing mix will make you take an extra serving. As a dressing, you can use avocado mixed with Greek yogurt and cilantro as a topper.
Another way to boost your immune system
Whenever you have the chance to eat healthy food, especially vitamin-rich summer salads, you definitely should, not only because they are light and delicious, but because they can do magic when it comes to your immune system. If you don't have time to make a salad for any reason, don't think that your immune system has to suffer. You can always use a natural supplement such as Immune System Booster from Vit2Go! to make sure you are consuming the vitamins, minerals and amino acids that your body requires.
This supplement, is not a replacement for vegetables and fruits, but it's benefits can boost your immune system in no time using a long list of micronutrients that do wonders in your overall health. Add this multivitamin beverage powder to your traveling routine, or when you need to boost your immune system before going away on a trip and once the minerals and vitamins in it start to kick in, you will feel refreshed and more resistant to types of viruses and ailments.
Prepare your body and mind for the upcoming summer holidays by taking care of your diet. We've recommended some incredible healthy salad recipes and we hope you'll like them for their taste and their nutritional value. Don't forget the importance of vitamins in salads and make sure you mix the proper ingredients to get a full flavor. You don't want to spend summer holidays feeling sick and exhausted, so make sure your body is in great shape when the time comes. These delicious summer salads can become a part of your own summer diet routine and Immune System Booster from Vit2Go! can additionally help with any minerals or vitamins that your body is running low on.