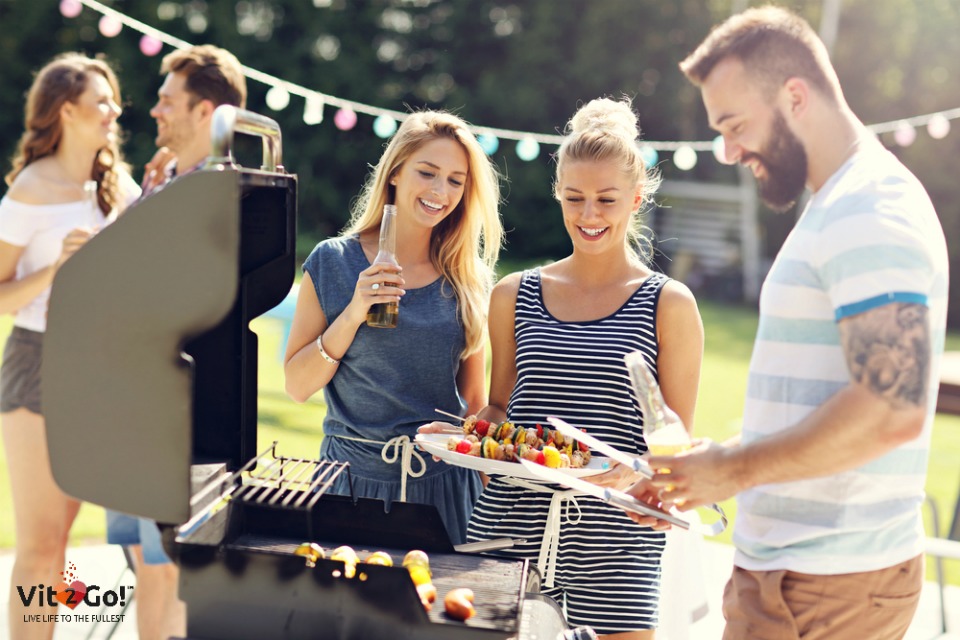 BBQ season – Healthy and tasty recipes
If you want to discover all the secrets for ideal grilling, read on for tips on how to do the best BBQ at home. We will show you tips on how to prepare the meat and a vegan recipe for all the vegans out there.
First things first, the meat will have the most flavorful when you marinate it in oil and spices a few hours before grilling, we even recommend marinating it overnight. A good marinade always has something acidic, so remember to add some lemon juice or vinegar to make the meat nice and tasty. A pro tip, use additional fat when grilling lean meats like chicken and turkey so they won't stick to the grill. So add some oil or butter, and grease the heated grilles before placing any meat on them. Another secret is to make sure your marinated meat is at room temperature before grilling it, that way the meat won't be "shocked" by the heat and it will be cooked perfectly and with a rich color.
Once the meat is on the grill, don't turn it around too often since it gets additional flavors from the caramelized surface. In order to get achieve this crispiness, the meat needs to be cooked at the right temperature for the right amount of time. A good way to know if your meet is ready, is that if it is stuck to the grill you need to leave it for a few minutes longer. To stabilize the juices in the meat, each piece of meat needs to 'rest', so after cooking it, wrap it in aluminum foil and let it sit for half of the total amount of cooking time. Aluminum foil will keep it warm, and will help it absorb more the flavors.
In regards to which meat to use for your BBQ, remember that meat from fish, chicken and beef is full of vitamins, nutrients and proteins that you need to maintain general health and to boost your energy. If you throw a BBQ party at home, you will want to serve your guests the perfect grilled meat along with some drinks. For most people, the traditional barbeque drink is definitely beer, but you can match other drinks with barbeque as well. For example, you can serve some red wine or some delicious summer cocktails, such as Tequila Honey Bee and Summer Fizz cocktails. In order to truly enjoy your BBQ, make sure you don't overdo it when it comes to eating and having alcohol. Overeating can cause nausea and overdrinking will lead to a nasty hangover. If you feel you had too many drinks  try using Hangover Aid from Vit2Go! before going to sleep, so your body can rehydrate and recover throughout the night.
We also recommend serving fresh salads along with the meat, which will help you boost your immune system. If you are dealing with high temperatures, don't forget to stay hydrated as well and don't hesitate to spice up your meat, given that spicy food can help keeping us cooler in the summer.
BBQ recipes
1. Skewers and sausages with peppers
This recipe is very simple and the results will be amazing. Start off by cutting sausages into slices followed by cutting the onions and peppers into bite-size slices. Put the ingredients through some wooden sticks and bake the skewers for 10 minutes on your barbeque grill. The rest of the peppers should be washed and cleaned properly and then baked on the grill until its peel turns black. Remove it from the fire, wrap it in a nylon bag and let it cool. When the peppers have been cooled down, fill them up with feta cheese and place them back on the grill until the cheese melts. Finally, cut the peppers into small slices and add salt, olive oil and some chopped parsley. Enjoy this tasty BBQ meal!
2. Cheeseburger
In order to make a yummy cheeseburger, first you need to prepare the meat. Add a teaspoon of Dijon mustard and freshly ground pepper to the meat, mix it all up and divide it into equal parts to create patties. Form a patty with your palm and if you want, perfect the round shape by using a cup as a cookie cutter. Let the patties sit in the refrigerator for about 30 to 60 minutes before baking, we suggest to place them in between two sheets of baking. In the meantime, prepare the sauce by mixing three to four tablespoons of mayonnaise with a teaspoon of mustard, a spoonful of ketchup or tomato sauce, some sour cream, and a few drops of vinegar. Clean and cut all the vegetables you would like in your burger. Now it is time to cook the patties on both sides on the highest temperature to seal them, and then turn down the heat until your desired point of the meat. Finally, add some cheese slices on top of the patties, and allow for the cheese to melt. Place the buns on the grill until they are nice and toasty and then ensemble your perfect cheeseburger with all the prepped ingredients. Enjoy your cheeseburger!
3. BBQ recipe
If you want to prepare this healthy BBQ recipe you will need 1 cup of a marinade of mixed herbs and garlic in lemon juice, 12 small mushrooms sliced on leaflets, 2 sliced zucchini, 1 onion, 1 small eggplant cut into slices, 2 peppers sliced into small pieces and salad leaves. The preparation is simple. Put the marinade in a large plastic bag. Add the remaining ingredients and stir well. Close the bag and leave in the refrigerator for at least 30 minutes. Separate the vegetables from marinade. Grill the vegetables on the BBQ for 10 to 12 minutes, turning once and constantly coat them with the remaining marinade. Serve the vegetables on plates and decorate with the leaves of the salad. Bon Appetit!