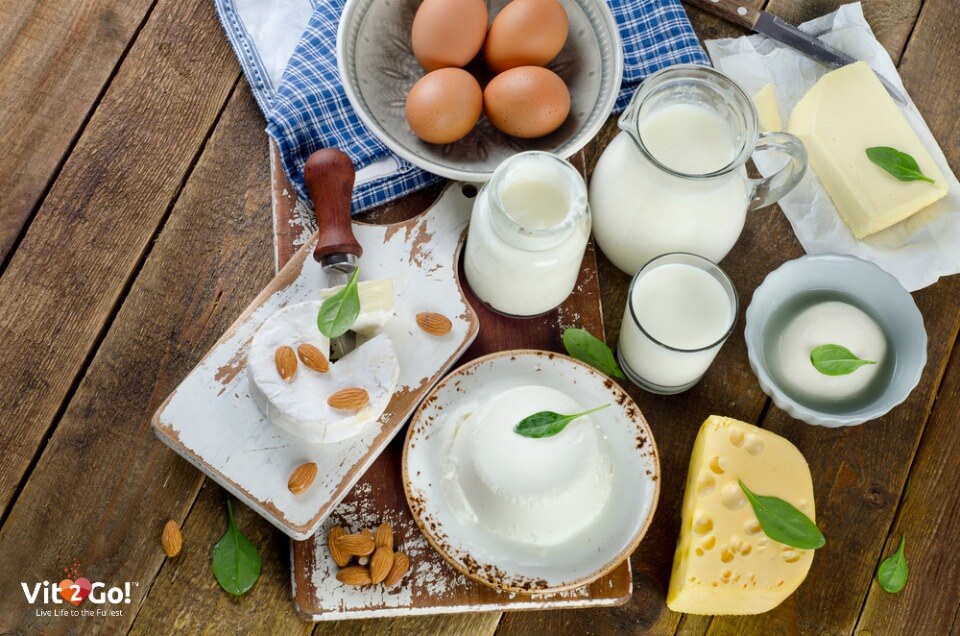 Calcium – Mineral for healthy bones and teeth
Most of the calcium in our body is found in bones and teeth while some can also be found in other body parts as well.
In general public, calcium is known as the mineral that keeps your bones healthy and is prescribed to older people with early stages of Osteoporosis. Young children are also encouraged to drink their milk in order to get enough calcium and have their bones grow fast and big.
These are all valid things but there is much more to calcium than just that. The important micronutrient controls or helps with a variety of chemical processes and can be found in more foods than just milk. Additionally, calcium supplements like Immune System Booster and Natural Energy Booster are great additions to one's diet, partially because they have a high amount of calcium in each serving.
Keep reading and find out all about the benefits of calcium, potential side effects of a calcium deficiency, how you can get enough and how much you should be getting.
The positive effects of calcium
There are many calcium benefits, but clearly the biggest one is related to the growth and rejuvenation of bones. Like all other things in our body, bone cells die and need to be changed with new bone cells. This process of breakdown and remodeling is a normal part of our everyday lives and as long as you are getting enough calcium, the remodeling process will keep going on uninterrupted.
While not all the scientists and studies agree on the degree to which calcium can help with issues such as osteoporosis, pretty much all agree that if you didn't get any calcium, you would have serious issues with your bones and teeth and that the mineral is important in keeping them healthy.
Other than just impacting the development and remodeling of bones, calcium also impacts important chemical and biological processes such as muscle contractions, blood clotting, hormone release and neural transmissions. Calcium does all this in cooperation with other micronutrients in the body.
Some modern studies have brought calcium into relation with potential blood pressure lowering effects and some even believe that the mineral could help combat certain types of cancer such as prostate cancer.
How much calcium should I get?
Depending on your age, your sex and a series of other factors, the perfect amount of calcium you should be getting per day can vary. In general, babies should be getting about 700 mg of calcium per day, while children and adults should be aiming for something in the range of 1.000 to 1.300 mg per day. If you can get 1.500 mg of calcium every day, you will surely be getting enough.
The one thing that many people don't understand is that getting too much of a micronutrient will usually simply do nothing as there is only a limited amount that our body can process in a single day, while the rest is discarded and removed from the body through regular bodily functions.
How do I get enough calcium?
There are two main ways to get calcium, just like most other nutrients. The first and the most common way of getting calcium into the organism is through diet. Most people get the majority of their calcium from milk and dairy products, as milk based products can contain up to 500 mg of calcium per single glass, making it a very easy way to get enough calcium.
There are many people out there who are lactose intolerant or are watching their diet and not drinking milk, which is where it can get a little bit tricky. No matter what type of a diet you are on and how much you are avoiding calories, you should not avoid getting calcium, as it is a very important nutrient for proper bodily functions.
A series of products by Vit2Go! that includes Natural Energy Booster, Immune System Booster and Hangover Aid all contain enough calcium to get you the necessary calcium benefits in a very fast and effective way. What's even more, these products contain not just calcium, but a large number of other important nutrients that will keep your organism buzzing with great vibes and completely rejuvenate your body and mind.
Each of these products has a different base purpose, but the important thing to keep in mind is that they are all designed to improve your general health, make you more resistant to illnesses and keep your body working at 100% all day, every day. If you don't have the time to get all the nutrients you need through regular diet, these Vit2Go! products can do a miracle for you and you won't even have to consume a single glass of milk or eat another carrot while taking them.