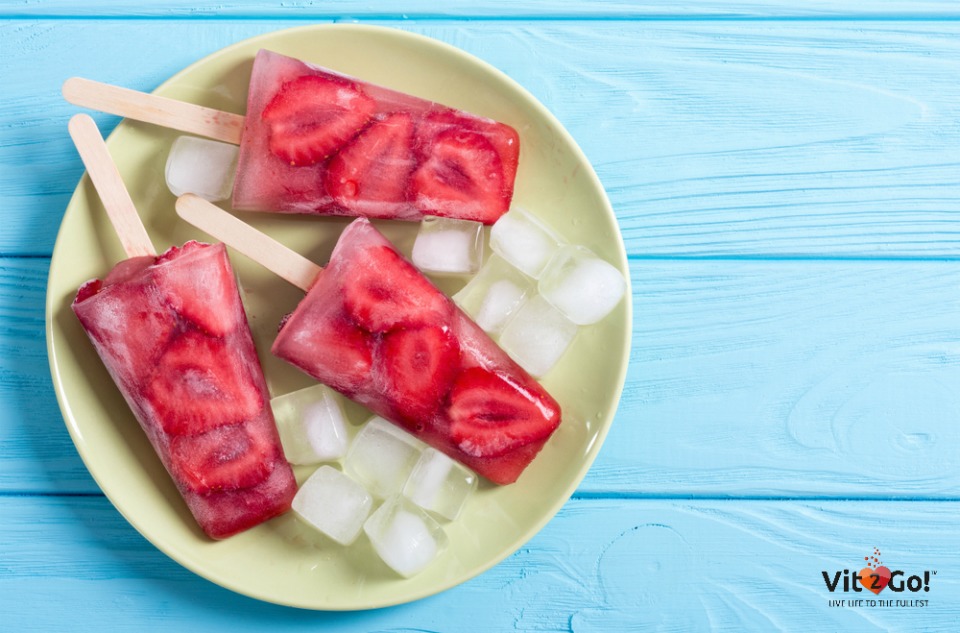 Health benefits of ice-cream
Believe it or not, ice cream is actually good for your health. Even though people who eat healthy or those who want to lose some weight, often avoid ice creams, it turns out that this frozen treat is very beneficial to our health. Ice cream contains many nutritious substances that our body needs. First of all, it's a source of vitamins A, B-6, B-12, C, D and E. It's also a source of vitamin K, which is important for blood coagulation, heart and bone health. Niacin, riboflavin, and thiamine are present in ice creams, which makes it an excellent immune system booster.
Besides the vitamins, ice cream also contains minerals, such as calcium and phosphorus, that are needed by our body, and what better way to take them in then by eating delicious ice cream. Calcium is beneficial for our bones, while phosphorus produces energy and contributes to overall tissue growth.
Ice cream can also prevent mood swings and premenstrual syndrome,  there is a reason why it is a great comfort food.  This frozen treat can stimulate our brain by stimulating hormone of happiness, it helps us deal with stress and it boosts our mood. You can enjoy the taste and get happier at the same time!
Ice-Cream as a Source of Energy
Ice cream is also an amazing source of energy due to the carbohydrates, fats, and proteins it contains. The good thing about ice creams is that they come in different flavors, and if you need to boost your energy, you can make lemon ice cream, banana ice cream or coffee-flavored ice cream. However, don't over use ice cream as an energy booster as it can also boost your weight.
Since there's no such thing as an instant energy-boosting food, you can use natural energy booster in a form of refreshing beverage. For example, Natural Energy Booster from Vit2Go!, that has a natural and highly effective stimulating effect. Like everything else, this product should be consumed in moderate amounts. due to its high caffeine content.
DIY Ice-Cream
If this is your first time making ice cream at home, you should start off with a simple recipe. We suggest making strawberry water ice cream, and if you really need ice cream that can boost your energy, we recommend a delicious and healthy lemon water ice cream.
Strawberry Water Ice Cream
If you want to make fruity and healthy water ice cream with strawberry flavor you will need 500 g of strawberries, 50 g of brown sugar, 50 g of sugar, 3 cl water, and 1 teaspoon of vanilla extract (optional). First, you wash and clean the strawberries. Then, throw the strawberries together with water and brown sugar in a blender and blend until pureed. Next, add the regular sugar, and if you wish you can also add vanilla extract. After mixing it all together, pour the mixture into molds for ice cream. Leave it in the freezer for at least 12 hours, and take them out of the freezer 5 minutes before consuming. Strawberries are an excellent source of important vitamins and minerals and that's why this homemade ice cream is ideal for you.
Lemon Water Ice-Cream
In order to make a refreshing lemon ice cream, you will need 1 tablespoon of freshly grated lemon zest, 1/2 cup of fresh lemon juice, 1 cup of sugar, 3 large eggs, 2 cups half-and-half and 1/2 teaspoon of vanilla. The preparation is easy; all you have to do is mix the lemon zest and the lemon juice with the sugar and the eggs in a saucepan. Then whisk in 1 cup of the half-and-half and the vanilla. When that's all done, cook the mixture over moderately high heat while whisking at all times. After you strain the custard into a bowl, chill it until it's cold. Finally, whisk 1 cup half-and-half and after you freeze the mixture, your ice-cream will be ready to serve.
Besides being incredibly delicious, this ice cream can boost your energy. Lemon water is an amazing energy booster and even the smell of lemon is shown to be energizing.
If ice cream was your guilty pleasure in the past, now you won't have to feel the guilt anymore. You've learned about health benefits of ice cream and you'll probably keep it in mind the next time you dwell on eating this vitamin-rich treat. You can prepare energy-boosting ice cream by following our simple recipes. Enjoy!