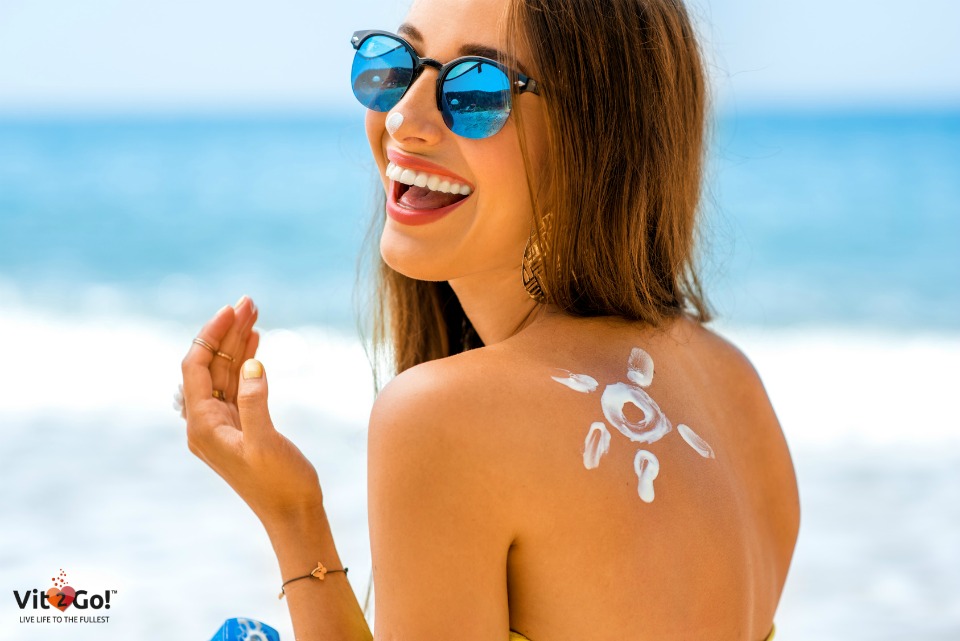 Sun exposure – How much sun is good for you?
The sun is a source of energy and happiness and for many and it has a positive effect on their mood. It maintains our biological rhythm, keeps us warm, and provides us with vitamin D that's beneficial to many body organs and functions. In growing children, it helps with bones and teeth development. Moderate sunbathing may have a positive impact on some chronic diseases such as cardiovascular ones, cancer, autoimmune and infectious diseases. However, in order to get these positive effects, you shouldn't get more than 15 minutes of daily sun exposure.
Negative effects of the sun on our health 
Sunbathing is relaxing and gives you a nice tan. Furthermore, we get vitamin D from sunlight, you have to think about its negative effects on your health. As it may happen, if you are exposed to the sunlight for too long, UVA rays are actually harmful, especially during the summertime. At first, you may not notice them, however the negative long-term effects can be even deadly. Radiation from the sun can cause sunburns, skin cancer and cataracts. Not to mention it causes premature formation of wrinkles, spots, and blemishes on your skin.
Don't believe that if you have a darker skin color, you are exempt of getting sunburnt, as we are all susceptible to it. For those of you who have fairer skin, only a few minutes in the sun, especially around noon when sun rays are the strongest, are enough to get your skin burnt.
Perfect sun protection – How much sun is good for you?
If you want to protect yourself from a sunburn, you should avoid sun exposure from 10:00 until 16:00. However, it is understandable that you cannot avoid the sun altogether, so make sure to protect your skin and wear lightweight clothing, a hat and sunglasses, and most importantly do not forget to wear sunscreen.
There is a myth about that in order to get the perfect tan, you need to get sunburnt first but this is not true. In order to achieve the perfect tan, you need to pick the right time to do so. Ideally,  the best time for sunbathing is in early morning hours when the sun rays are not as strong and the temperature is still pleasant. The same goes if you expose to the sun after 17:00 and you don't have to fear the terrible and painful sunburn. Overall, the amount of time spent in the sun is less important.
Pay special attention in protecting your face, lips and hands properly. Sun protection creams help you in avoiding the negative effects of the sun, and the main thing you need to consider is it's UVA and UVB protection. UVB rays can cause sun allergies while UVA rays penetrate deeper into the skin. Hence, you need a sun cream that can protect you from both. If you are wondering the SPF factor that you should use, a factor 30 or factor 50 sunscreen, will do.
If you are into using natural remedies for tanning, coconut oil is the perfect solution for you. It can protect you from UV rays, it nourishes your skin, it gives it a glow, and leaves it feeling softly. With  coconut oil your tan will be perfect and you'll avoid harmful effects of sunbathing.
Even though the sun lifts our spirit, spending too much time in the sun can make you feel exhausted and may also weaken your immune system. The weather may cause stress to your body and become a threat to your immune system which could increase the risk of infections. Make sure you stay hydrated at all times and eat as much fruit and vegetables as you can. Another way to prevent your immune system from dropping is by using Immune System Booster from Vit2Go!. You can also use this refreshing beverage powder with high doses of vitamins, minerals, and other good nutrients if you feel like your immune system is low.
Avoid spending too much time in the sun when the rays are the strongest, use proper protection and your sunbathing experience will change. Skin protection is also your number one priority and you should never skip this step. If you feel like your immune system is getting low, it may be a sign you have spent too much time in the sun and you need to address it right away. Follow our advice on perfect sun protection and stay healthy and have a perfect tan.