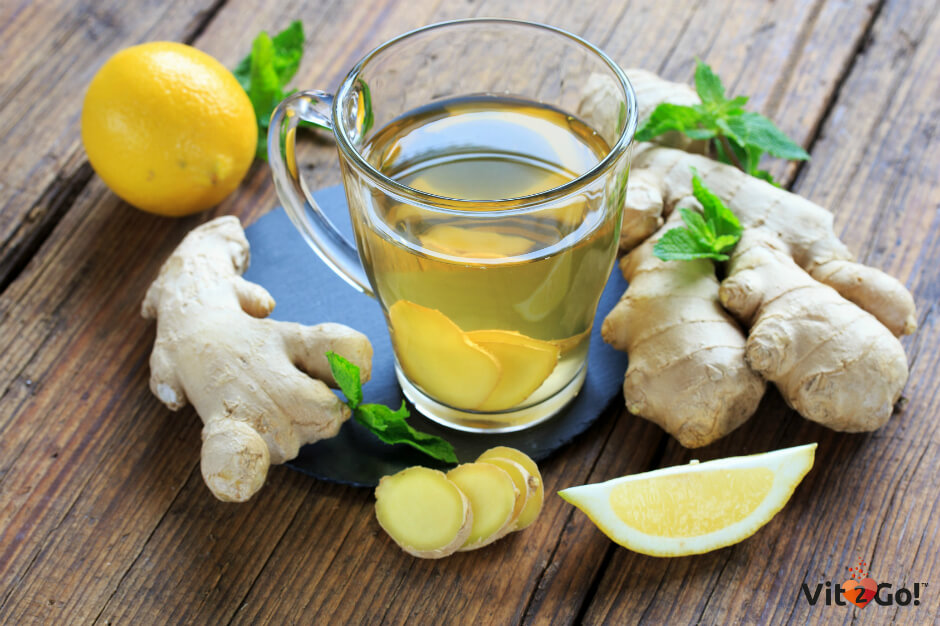 The science behind the superfood ginger
While we westerners have only discovered the full benefits of ginger in recent decades, Chinese and Indian people have been using the plant to treat all sorts of medical conditions for literally millennia, with some believing that ginger was a commonly used cure up to 5.000 years ago in the Far East.
The Roman Empire discovered this and some two millennia ago, ginger became a highly prized trade good in the west as well, as the numerous health benefits of ginger were discovered. However, the Romans and the Chinese did not really know where the health benefits came from and quite naturally the plant was believed to have magical properties back in those times.
Today, the science has done lots of research on ginger and we now better understand what makes ginger so healthy and special for us humans and why we should be consuming it daily, keep reading and you will find out as well.
Why is ginger so healthy?
There are over 120 chemical compounds in the ginger root, but most of the health benefits of ginger come from compounds known as Gingerols, which as you can tell got their name from this delicious spice plant. Gingerols are the resins found in the root of ginger, which have extremely powerful antioxidant and anti-inflammatory properties that act well in helping our body fight off numerous ailments.
Ginger falls in the same botanical group with cardamom and turmeric, collectively known as Zingiberaceae. Numerous scientific studies have shown ginger to have positive effects on all sorts of ailments, including motion sickness, nausea, cardiovascular issues, inflammations and many other medical conditions that are often very hard to completely heal, but can be treated and alleviated.
Ginger is the kind of cure that you can buy in the green market, need no recipe for and will help your overall health a lot more than most prescription pills. From immune system to heart disease prevention, the magical properties that the ancient people believed the plant to have almost seem to exist as the uses for ginger appear to be nearly limitless.
Using ginger to improve your immune system
Ever since the ancient days, poor immunity and toxin poisoning were an issue that many people suffered from. Some of these people recognized that consuming ginger helped them keep their body cleaner of trash and healthier and despite not knowing exactly what they were up against, they did know that ginger could help.
Modern science has recognized that ginger is fantastic in helping our body break down the toxins that accumulate in it from unhealthy diet and everyday life choices we make, which helps keep the body healthier overall. Accumulation of toxins in our body makes it more prone to infections and ginger helps open up the lymphatic channels which releases toxins and keeps the immune system healthier. Ginger is also fantastic in stopping bacterial infections through increased immune function, generally acting as a fantastic immune booster.
This is exactly the reason that Vit2Go! has put ginger into Immune System Booster, one of its top selling products and why the product is so effective. By combining ginger with a number of other healthy ingredients and all the micronutrients our immune system needs to keep healthy, Immune System Booster manages to improve the health of an individual by a great amount and keep the bacteria and inflammations away at a safe distance.
Whether you intend to ingest ginger through your diet on a regular diet or are more into using Immune System Booster, consuming this magical root will keep your body less susceptible to infections and disease and without a doubt will be one of the best choices you can make in your life.
A healthy diet should include ginger
Today, more and more people are switching from regular diets to healthier ones, but oftentimes without really taking into consideration what foods will bring them the most health benefits. If you are considering any type of a healthy diet, make sure that you add ginger to it. Adding ginger is really easy, as it can be used as a spice in a great number of dishes and you can even add it to your healthy juices and drink it squeezed out in the morning or evening to keep your immune system well fed.
Of course, if you don't have the time to keep up a healthy and regular diet, taking Immune System Booster on a regular basis will do the trick for you and will serve as a great substitute for ingesting raw ginger. While nothing can replace a healthy diet, the product does come very close and you can even use it along with your veggies and fruit, to keep your body even healthier.