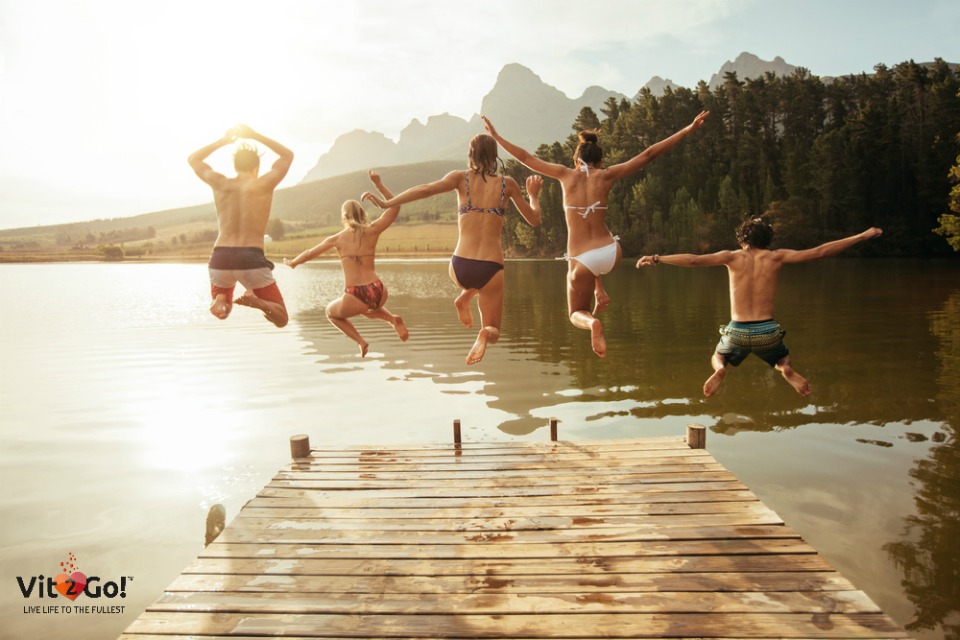 8 picturesque lakes in Europe – Top holiday destinations for this summer
Plitvice Lakes, Croatia
Plitvice Lakes are one of the sources of pleasures one can experience in nature. The combination of water, greenery and rocks will simply enchant everyone. The main reason why so many tourists visit this National Park is its rich flora and fauna and sixteen magical turquoise lakes with numerous waterfalls. Plitvice Lakes are inhabited by all three of the largest predators in Europe – the brown bear, the wolf and the lynx, which will impress all the animal lovers out there.
Lake Annecy, France
For those of you who cannot tolerate the summer heat, this picturesque town on Lake Annecy surrounded by mountains, is your perfect place to rest. Tourists can enjoy a rich variety of activities, like sightseeing of historical and cultural sights, and walks along the canals. If you visit this lake in summer you can enjoy many different water sports such as diving, bathing, water skiing and sailing. For those adventure seekers who want to spice up their summer holiday, Lake Annecy has the perfect conditions for paragliding.
Lake Hévíz, Hungary
This gorgeous thermal lake is a true paradise for those who like swimming and want to enjoy the wonders of nature. Many tourists visit this lake for its health benefits since it's rich in sulfur, and other important minerals. The Hévíz mud also has healing effects, and its regular use can boost your immune system. It's an ideal place where you can completely relax and leave your problems behind. The water is perfectly warm and you have enough space just for yourself.
Lake Bled, Slovenia
Lake Bled is where the oldest castle in Slovenia is located. Which is why it is said to be one of the most romantic environment you'll have a chance to see in Europe. This marvelous lake, with the mountain ranges of Karavanka and Julian Alps will leave you absolutely speechless. Lake Bled is surrounded by a six kilometers long trail, so it is suitable for cycling and walking. The unavoidable thing you have to do if you find yourself here is to ride on a boat. If you visit this lake with your friends you will have an amazing time while you are watching the sunset over the island with a bottle of wine and some snacks. Don't have too many drinks, because you will want to remember every moment you spend here.
Lake Orta, Italy
This picturesque lake has a potential to make you chose it over going to the seaside. Lake Orta is only a twenty minute drive to the Alps and since it is so spectacular many celebrities tend to visit it. Given that is truly an exceptional place, it is very romantic and many people decide to have their wedding out there. The town of Orta San Giulio is full of old streets and cozy bars, where you can enjoy the great espresso and cappuccino that can boost your energy. Some argue that this lake is the most beautiful of all the Italian lakes, and if you want to see the best it has to offer, we recommend using a public boat service.
Lake Ohrid, Republic of Macedonia
Ohrid Lake is surrounded by high mountains and it's fascinating in many ways. The image of snow on the high mountains and flowers on the shore of the lake is impressive. The color of water changes from sunrise to sunset. If you are planning to visit Ohrid Lake, we suggest you settle in the city of Ohrid. We also recommend you to book a boat ride in Ohrid and explore one of the oldest lakes in Europe.
Lake Saimaa, Finland
As you might know, Finland is a country of thousands of lakes, and Lake Saimaa is the perfect holiday destination in summer. The great thing about this lake is that you can swim wherever you prefer. You can visit gorgeous public beaches or find your perfect spot in the nature. You'll be surrounded by amazing forests and this area is also known by traditional saunas. If you like fishing, we definitely recommend visiting Lake Saimaa because you'll have an opportunity to relax and enjoy the nature while catching the perfect fish.
Lake Hallstatt, Austria
If you are wondering where to go this summer, and you are a fan of European lakes, Lake Hallstatt may be the perfect choice for you. Its incredible landscapes,  with a romantic and adventurous vibe, are definitely worth experiencing. In order to explore Lake Hallstatt completely, we recommend taking a motorboat, and if you like to stay active, you can always go rock climbing, however if all you want to do is relaxing in the sun surrounded by greenery, you're also in for a treat.
How to stay energized on your summer holiday
Traveling can drain some of your energy and it's important to prepare your body for an upcoming adventure. Visiting a lake in summer will be fun and exciting, it will involve swimming, sunbathing, cruising, paragliding, motorboating, fishing, cycling, etc. All these outdoor activities can tire your body, so remember to plan them reasonably. Eat food that can boost your immune system, stay hydrated and protect yourself from the sun properly.  Natural Energy Booster from Vit2Go! can also help you maintain your energy level since it contains the natural source of caffeine and many important vitamins and minerals. Pack your bags and enjoy your summer holiday!