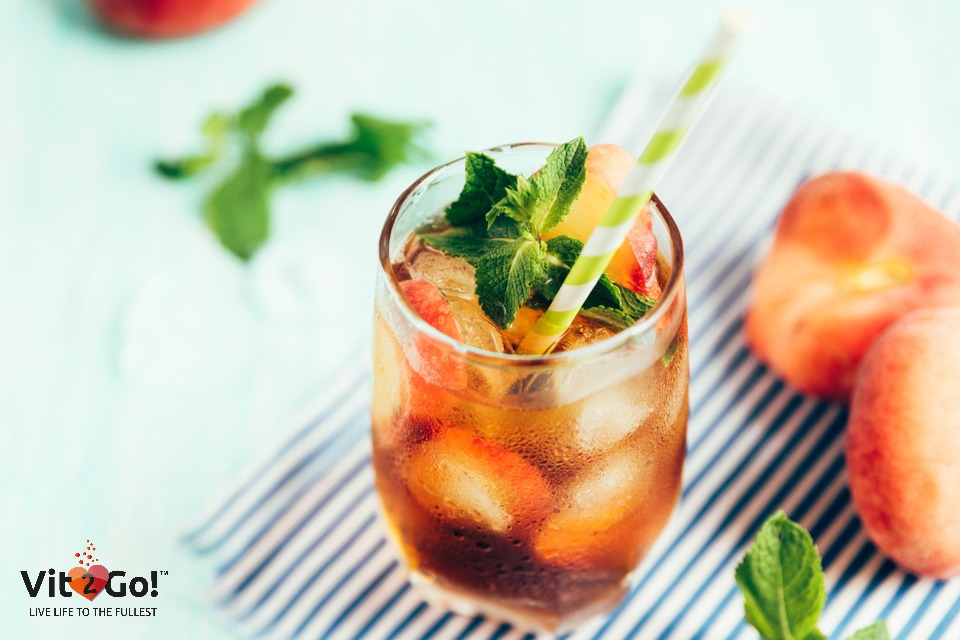 6 Cool DYI ice tea recipes
Lemon Basil Iced Tea
If you want to make this delicious and refreshing ice tea you only need a few ingredients and the preparing it is very simple. All you need is half a lemon cut in thin slices, 3 fresh basil leaves,  green tea bags, hot water, and honey if you would like to sweeten it. In order to make this tea, first you have to  add the lemon slices, green tea bags, and fresh basil leaves into a jar. After you do that, pour hot water in and let it steep for about fifteen minutes. After removing the tea bags, store it in the fridge and wait for three hours until it's completely chilled. Serve it cold and enjoy!
Coconut Lime Iced Tea
In order to make Coconut Lime Iced Tea, you will need 1 back of black tea, half a lime, and 100 ml of heated coconut water. If you want to boost your energy, you can also add 1 sachet of Natural Energy Booster from Vit2Go!. The first thing you need to do is to add the black tea bag and sliced lime into a jar followed by pouring the heated coconut water. After steeping it for 15 minutes you can remove the tea bag, and let it chill for a couple of hours in the refrigerator. Once it is nice and cold, pour the content of Natural Energy Booster sachet into an empty glass and add your ice tea. Stir immediately and store in a cool, dry place.
Peach and Ginger Iced Tea
This ice tea will become one of your favorite beverages and it takes only a few steps to prepare for it. The ingredients you will need are 1 pitted and sliced peach, green tea bag, 2 ginger slices and 3 cups of hot water. Add the sliced ginger and peach with the tea bags to a mason jar and pour the hot water. Let it sit for 20 minutes and then take the tea bags out. For a perfect flavor, allow it to chill for 4 hours in the fridge and serve it cold.
Blackberry Mint Iced Tea
If you want to enjoy this refreshing ice tea make sure you have 1/2  cup of fresh blackberries, 6  leaves of fresh mint, 2 bags of green tea and 3 cups of hot water. Before you pour the hot water into the mason jar, you should add tea bags, mint leaves, and blackberries. Let the water extract these amazing flavors for 15 minutes and then remove the green tea bags. Store into the fridge and let it chill for about three hours. It will taste great!
Iced Green Tea
The preparation of this healthy ice tea recipe requires 1 bag of green tea, 200 ml of hot water, 1 teaspoon of lime zest and 1 teaspoon of the orange zest. First, you need to pour the filter bag into the hot water and allow it to steep for 5 minutes. Then, remove the tea bag and add the lime and orange that you previously grated. Cool the tea in the refrigerator for at least 3 hours. We also recommend adding Immune System Booster from Vit2Go! to this tea. Pour the content of a sachet into 100 ml iced tea and stir. Adding this to your tea will boost your immune system so you don't' have to worry about catching a cold anytime soon.
Preparing your own ideal ice tea can be fun if you try our easy and healthy DIY recipes. These ice tea recipes are so simple that you'll experiment with different flavors in no time. We are all aware of the benefits of drinking tea, especially when you remember that the most important thing when preparing healthy ice tea is that you have to use fresh fruit and not much sugar. However, if you like your tea sweet, using raw honey is a good alternative to artificial sweeteners. You can also mix Natural Energy Booster and Immune System Booster with this amazing beverages in order to improve your overall health. Follow our simple recipes and your body will thank you!