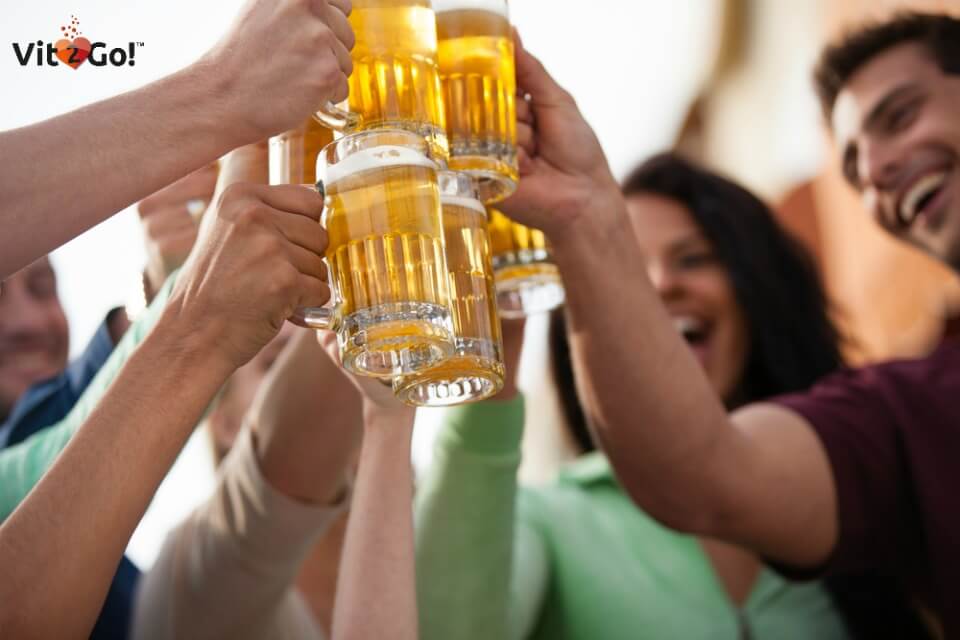 Best holiday destinations for party lovers
Before you decide which destination you want to visit, you need to think about your partying style. Do you like to dance to electronic music, play social games or karaoke, party by the pool, hang out with a lot of known and unknown people or just with your close friends? When it comes to partying options – only the sky is the limit and the main goal is to enjoy every moment. Thinking about tomorrow is forbidden, unless you are thinking about preventing terrible hangover. In that case, along with tips on where to party you will also need some tips for a bad hangover on holiday, because consuming alcohol on holiday is a common thing people do.
The top 3 places party people should definitely visit
 Las Vegas – Sin City
When you imagine Las Vegas, the first thing that pops into your head is probably casino. If you are a fan of casino games, this is a perfect place to visit, but that is not the only thing Las Vegas has to offer. If you are into all-day clubbing with A-list DJs, you will be more than satisfied with Las Vegas nightlife. One of the best things about Sin City is that you can enjoy the sunshine even when it's winter – relax by the pool or dance at a summer pool party. You can take a bungalow or personal jacuzzi or book a banquette by the dance floor, eather way, parties in Las Vegas will definitely be engraved in your memory. Amazing outdoor adventures are guaranteed, and natural wonders that you have a chance to see, will make this experience even more magical than it already is.
 Ibiza – Party island
Ibiza is an amazing island in Spain, and for such a small island their parties are huge. Before heading to town to get some drinks and dance, you can relax on one of their amazing beaches. Legendery Ibiza clubs are waiting for you, so get ready to dance like there's no tomorrow. If you are more into partying out at the sea, you can choose from a wide choice of boat parties. The best thing about these parties is that everyone can find something that matches their taste. There is no chance you will go home unsatisfied. If you want to cruise all day and party all night, you can do it at the same place, which is pretty cool! You will find that this island is a magnificent place that combines sun, sea, music and parties you've never witnessed before.
 Seoul – Special Metropolitan City
The capital of South Korea is special by so many different things, and one of them is their nightlife. Many people who had a chance to visit Seoul, claim that they've never experiences a more exciting nightlife. If you are impressed with Korean culture, you will most certainly love their social events and enjoy spending time with locals who are always drinking and celebrating together. Their clubs are open until 8 am, or even until 10 am, because when it comes to partying – they are unstoppable. If you get hungry after a long night of drinking, don't worry, you can always eat at one of the Korean BBQ restaurant. You don't have to be a fan of electronic music to enjoy partying in this city, they also offer chill rooftop pubs, swanky bars and many other options.
Hangover during holiday – how to make it go away
Holidays are time for relaxation, and we all have our ways to relax. If yours, by any chance, includes drinking alcohol, you need some tips for a bad hangover. First of all, choose your drinks wisely, while you are still able to make fair judgments. For example, if you had a bad experience with vodka before, it will be smart to avoid it this time. If you are dancing, and truly enjoying your time wherever you are, you will probably have a positive experience with alcohol. On the other hand, if you are not having fun and you're drinking out of boredom, this can easily create a problem. Move to another place where you will feel much more entertained, as soon as possible!
Finally, before you go to sleep, make sure to stay hydrated. You also want to avoid nausea and headache, and that's why you will get a lot of use from Hangover Aid by Vit2GO! This supplement will ease your hangover by resuplying the nutrient you've lost due to alcohol drinking.
You were waiting for your holiday for so long, imagining where you would go and how it would look like. Spontanious events are often the most exciting ones, but some things need to be planned. Choose your destination and your company wisely and don't forget to bring Hangover Aid by Vit2Go! with you. You don't want your perfect night to be ruined by vomiting and feeling miserable the morning after.