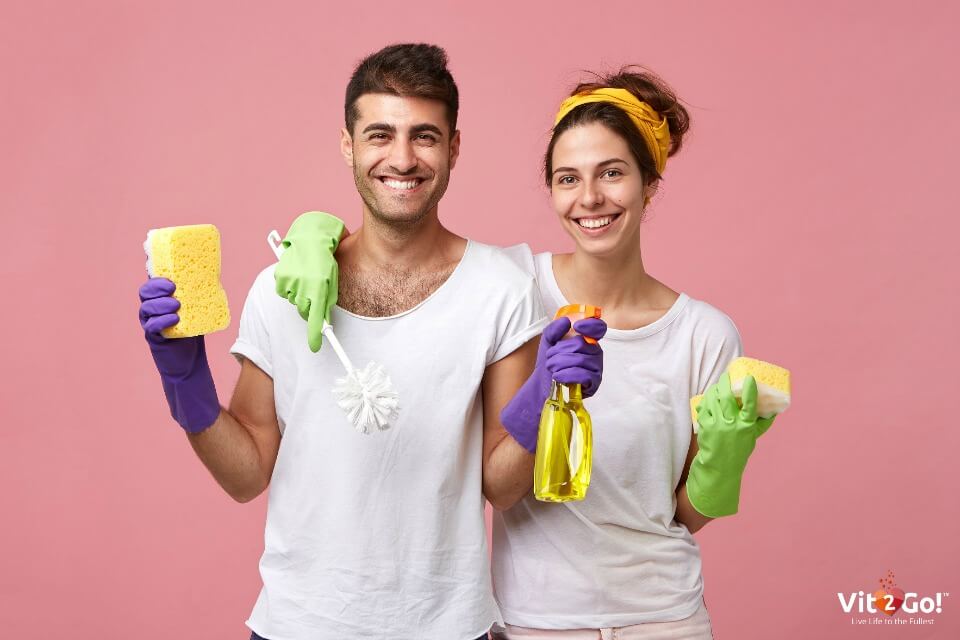 Great tips to spring clean your house
Spring time is finally here and the time for spring cleaning has come. As exhausting as it can be, spring cleaning is important for many reasons. Primarily, you want to keep your health safe and living in a clean environment is a great first step towards this. Secondly, living in a clean home also makes your life a lot more enjoyable in a number of other ways as everyone feels more motivated to go about their chores and tasks when everything around him is clean and tidy.
If you need more motivation for spring cleaning, keep in mind that during the winter, lots of bacteria and germs have likely accumulated in different surfaces around your home and with the weather getting warmer, their numbers will only increase. This is why it is crucial to keep your home safe and by doing so also keep your organism healthy and happy. Here are some tips on how to spring clean your house the easy way.
Get all the supplies first
If you are going to spring clean your home the right way, you are going to need lots of different supplies. We are talking about brooms, cloths, sponges, disinfectants, detergents and other cleaning products, so make sure you get everything you need before you start, so you don't have to go back to the store halfway through, which can be quite annoying.
Once you have all your supplies in order, you can start your spring cleaning, and making a schedule first is the best way to go.
Do it in order
Spring cleaning can be frustrating as you are trying to clean every single surface in your home and there are plenty of ways you can get distracted or get in your own way. This is why it is important to make a schedule and stick to it. Clean rooms and parts of the rooms one by one and don't allow yourself to jump from one task to another. This will only make the tasks even more difficult and the whole process slower.
Play some motivating music
Let's face it, cleaning can be hard work physically, but if you have something to keep you going throughout, you will likely do a better job. Playing some music as motivation for spring cleaning can be quite helpful. Don't be shy about playing it loud on the speaker and dancing a bit as you go. It will make the whole thing seem like more play and less work.
Start with the bathroom
Bathrooms and toilets are usually the most difficult to clean and the filthiest, so starting there is probably a good idea. You are still refreshed and full of energy and getting these out of the way while you are still feeling like doing the work is best. Doing things like the living room will be a lot easier later on, so start out with the most difficult part.
Get the difficult spots
Cleaning the surfaces of the kitchen counter or the dining table is easy and fast. Cleaning the rims and cracks in the bathroom, kitchen and toilette is not. However, these parts usually get the dirtiest over the winter and are exactly the ones you should pay the most attention to. If necessary, find special cleaning tools and supplies to get to these parts and don't forget any of the as the bacteria have a way of piling up in the most unreachable of places.
Don't forget your dish washer
Dish washer is meant to wash the dishes, so we often forget that it too needs some cleaning. Not just during spring cleaning, but throughout the year, make sure you clean the inside and the parts of the dish washer individually as well as get any leftover pieces of food from the bottom. Small rotten pieces of food are a great breeding ground for bacteria and not cleaning your dish washer is an easy way to get sick.
Do some deep cleaning
We often forget to clean things like our bedroom mattress or our couch cushions, but over time, germs do pile up in these and it is crucial to deep clean them every once in a while. Spring cleaning is a great time to get some deep cleaning done as well, so don't be shy about removing all the cushions and getting to the most unreachable parts of your bed and your couch.
Go into it ready
If you are going to be doing some deep cleaning, you better make sure your immune system can handle getting a few germs out of the way. Consuming Vit2Go! Immune System Booster throughout winter time will help you keep your immunity at top levels and once spring time comes, you will be ready to take the bacteria head on. Of course, it is never too late to start taking Immune System Booster and the sooner you do, the sooner your immune system will be ready for spring cleaning and anything else you may throw at it.