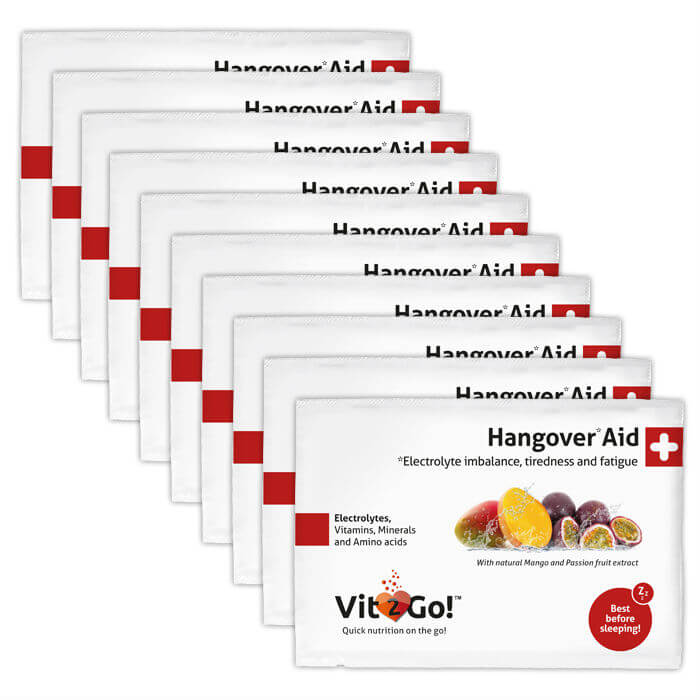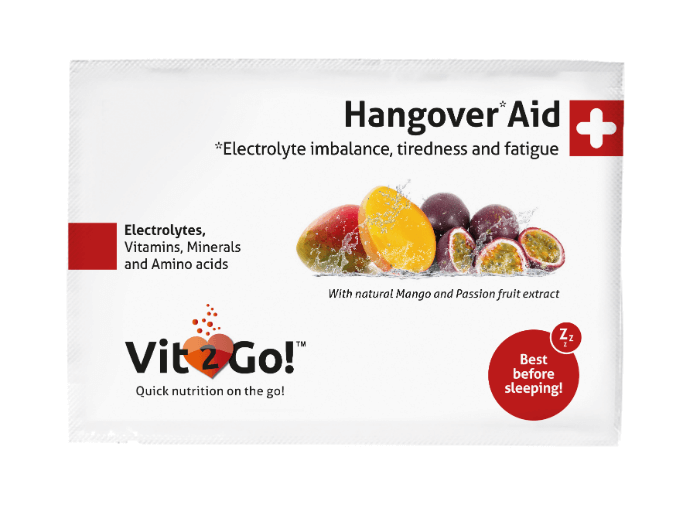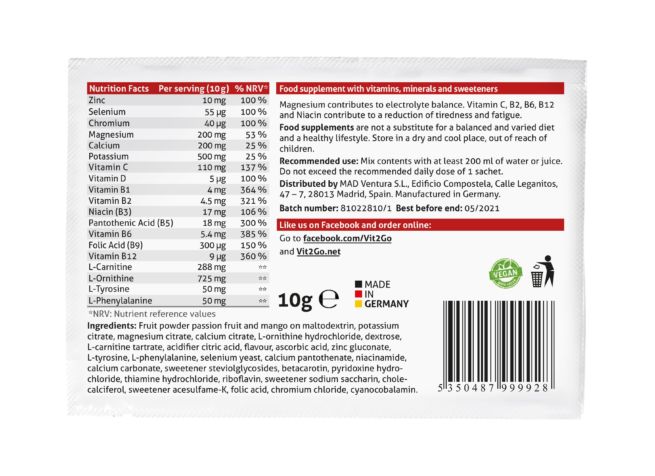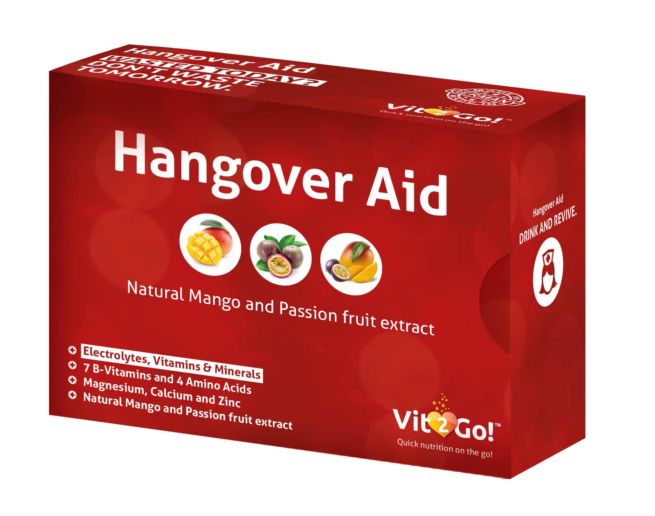 Hangover Aid 10-PACK
€18.69
In stock
Description
https://www.vit2go.net/shop/hangover-aid-10pack/
Hangover Aid: Drink and Revive!
Essential Electrolytes & Minerals
7 B-Vitamins and 3 Amino Acids
Magnesium, Vitamin C and Zinc
Natural Mango and Passion fruit extract
100% vegan
Hangover Aid rehydrates and resupplies the body with all the important vitamins, minerals, electrolytes and valuable amino acids that the body loses after excessive alcohol consumption. Let only one sachet of Hangover Aid work its charms as you sleep so you can wake up raring to start the next day without the 'morning-after' curse.
Watch our quick video to find out how alcohol consumption affects your body: alcohol distracts water and dehydrates the body, which leads to the loss of fluids, important minerals and other nutrients and causes general malaise.
We understand that things can be a little fuzzy after a night out, so we made it as easy as possible for you to take advantage of these amazing perks. Simply stir our sachet in water or juice before laying yourself down to sleep, and you will wake up as fresh as new snow atop the mountains of the Himalayas.
Exclusive Online Shop Offer:
Buy 1 or more 10-PACKS of Vit2Go! Hangover Aid and get 10% Online Shop Discount!
Buy 3 or more 10-PACKS of Vit2Go! Hangover Aid and get 20% Online Shop Discount!
Food supplement information:
EU authorised health and nutrition claim:
Vitamin B2, B3, B5, B6, B12 and Magnesium contribute to a reduction of tiredness and fatigue.
Recommended use:
Mix contents with at least 100ml of water or juice and stir. Do not exceed recommended daily dose of 1 packet per day. Store in a cool, dry place, out of the reach of children.
Food supplements should not be used as substitute for a varied diet. Seek professional advice before using if you are pregnant, breastfeeding, under medication, or suffer from food allergies.
Nutrition Facts
Per serving (10g) 
% NRV*
Zinc
10 mg
100%
Selenium
55 µg
100%
Chromium
40 µg
100%
Magnesium
200 mg
53%
Calcium
200 mg
25%
Potassium
500 mg
25%
Vitamin C
110 mg
137%
Vitamin D
5 µg
100%
Vitamin B1
4 mg
364%
Vitamin B2
4.5 mg
321%
Niacin (B3)
17 mg
106%
Pantothenic Acid (B5)
18 mg
300%
Vitamin B6
5.4 mg
385%
Folic Acid (B9)
300 µg
150%
Vitamin B12
9 µg
360%
L-Carnitine
288 mg
—
L-Ornithine
725 mg
—
L-Tyrosine
50 mg
—
L-Phenylalanine
50 mg
—
* NRV: Nutrient reference value
Ingredients: Fruit powder passion fruit and mango on maltodextrin, potassium citrate, magnesium citrate, calcium citrate, L-ornithine hydrochloride, dextrose, L-carnitine tartrate, acidifier citric acid, flavour, ascorbic acid, zinc gluconate, L-tyrosine, L-phenylalanine, selenium yeast, calcium pantothenate, niacinamide, calcium carbonate, sweetener, steviolglycosides, betacarotin, pyridoxine hydrochloride, thiamine hydrochloride, riboflavin, sweetener sodium saccharin, cholecalciferol, sweetener acesulfame-K, folic acid, chromium chloride, cyanocobalamin.
Energy 15,1 kcal (63,1 kJ), Protein 0,96 g, Carbohydrates 2,48 g, Fat <0,01 g
Manufactured by Vital Products GmbH, Prinz Ludwig Straße 13-14, 95652 Waldsassen, Germany
Distributed by MAD Ventura S.L., Edificio Compostela, Calle Leganitos 47 – 7, 28013 Madrid, Spain.
Manufactured in Germany.
EAN: 5350487999928