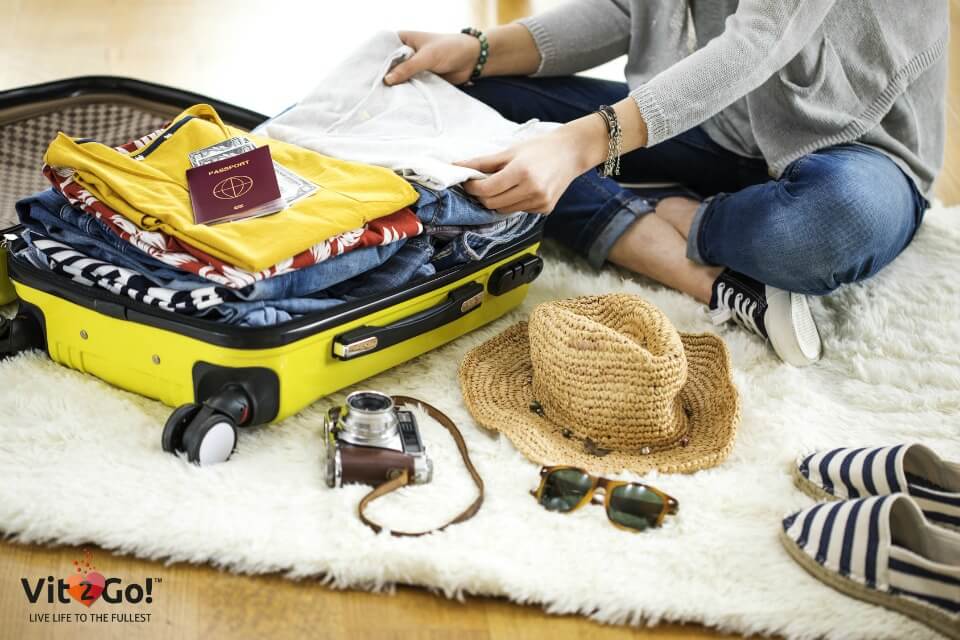 Your holiday packing list – easy and simple
A holiday packing checklist will help minimize your chances of forgetting something important, and it might save you from future troubles. We've created an easy holiday packing list for you, which you can customize as you wish. Trust us when we say, the following items are crucial no matter where you go.
Travel documents and money
A few weeks before your vacation make sure your travel documents are in order, and the night before your trip place your documents somewhere you know you will not forget them. When it comes to money, there are few things that need to be discussed. For starters, you don't want to have a lot of cash on you for fear of losing it or spending it. Then again, you never know if you will find yourself in an emergency situation with some unexpected expenses. This is why, we recommend to pack some extra money and to find a secure spot in your travel bag for safekeeping. Don't forget that this holiday is your time to relax and enjoy, and who says that money can't buy you happiness?
Clothes and shoes
The amount of clothes you take with you will depend on how many days you will be staying at your destination. The ideal plan would be, to come up with different outfits for each occasion you know you'll be engaged in. This means, a head to toe styling plan, with several outfits just in case the weather changes drastically. A prepared traveler will visit the weather site, and now so will you. This way you'll know what to expect from the weather at your destination. On the day you travel, we recommend to wear a casual and comfortable traveling outfit so you feel cozy and relaxed on long journeys and arrive rested at your destination.
Toiletries, cosmetics and accessories
The contents of your toiletry bag  will depend on your daily routine. Nonetheless, there are some necessities that we all use, such as: toothbrush, hair brush, shampoo, shower gel, shaver, hand cream, sunscreen, and sunglasses just to name a few. The list can go on and on, and for women it can be extended when you take into account jewelry and make-up. Always remember to only pack your basic necessities, and not items you hardly ever use, as we recommend travelling with only one toiletry bag.
First aid and prevention
At times, when you travel, your body might need so time to adapt, and you may find yourself in a situation where you are reaching for your first aid kit to cure some ailments. However, there is a way to prevent being ill altogether, take Vit2Go! Party Survival Kit 3-Pack with you. Why is this kit ideal for traveling? Natural Energy Booster from Vit2Go! will help you regain your strength when you are tired from all the travelling and sightseeing. Most party holidays are unimaginable without alcohol and that's a fact. To avoid the terrible symptoms of a hangover, you can use Vit2Go! Hangover Aid, which will help you regain all the lost nutrients your body needs. Plus, you won't let your immune system suffer, take some Vit2Go! Immune System Booster to boost your defenses and to avoid getting sick while on vacation.
Snacks and drinks
A great traveler will plan their meals in advance, since going on a trip can be exhausting you should know where you would like to eat. However, if you are out and about, we recommend to take some energy boosters with you like bananas or apricots since they can always come in handy. Also, always remember to have a refreshing beverage by your side so you can stay hydrated, and if you are a caffeine addict don't forget to bring a coffee thermos to always be prepared for your next coffee.
Planning your perfect holiday is unimaginable without  proper packing. This entails a list of all the things you may need in your trip, so create your own checklist and you will see how it will definitely come in handy. Everyone has their own daily routine and needs, so each person's ToDo holiday list might be different, but we hope ours can be a good start and it will inspire you to make your own. Follow our advice and you will pack all the necessary things, your luggage won't be overcrowded and you will feel better than ever. Vit2Go! Party Survival Kit 3-Pack will be your best friend when it comes to hangovers, immune system and energy boost. Now that you are no longer wondering what to take on a holiday, you can lay back and relax!